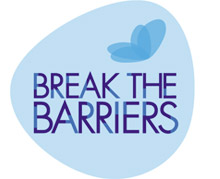 Break the Barriers Program
The Break the Barrier Program stems from the desire to support projects contributing to breaking down barriers, be they economic or cultural, in Italy and in developing countries.
For the Andrea Bocelli Foundation, breaking down a barrier means to be successful in the desire to offer every human being freedom and dignity to live the life they deserve.
Give people the ability to provide for themselves by creating opportunities for redemption in terms of economic and social independence by acting responsibly on real needs and activating people's unexpressed energy.
The Foundation operates through its actions achieving real opportunities for improvement for the people concerned, measuring one's actions not in terms of the sums of money invested, but in rela- tion to its effective contribution to people.
Challenges Program
The Program aims to bring together the best minds to find innovative solutions to help people cope with and overcome the limits imposed by their disability or discomfort.
The Challenges program operates within the area of scientific and technological research and social innovation, accepting major challenges in terms of both investments and results to be achieved in the willingness to allow anyone who experiences economic or social difficulties to express themselves.
In this program, the Foundation launches challenges involving high-risk investments and global interest that could contribute to improving the living conditions of many people.